Near Portland Oregon you'll find a large ski area on the South East side of Mount Hood. Mount Hood Meadows Ski Resort offers the most expert terrain on Mount Hood.
Mt. Hood Meadows offers some of the most spectacular skiing and snowboarding in the Northwest! The resort is close to Portland – just 90 minutes away – but delivers a big mountain experience you'd expect to travel much farther to enjoy. Mount Hood Meadows Ski Resort operates on a special use permit on the Mt. Hood National Forest, and the resort sprawls across Mt. Hood's southeast flank, the sunny, wind-protected side of Mt. Hood. Meadows' playful terrain welcomes and challenges all levels of skiers and snowboarders.
Plan on visiting Mount Hood Meadows Ski Resort along with other Northwest Ski Areas on a trip through the Pacific Northwest.
Check Out Mount Hood Meadows Ski Resort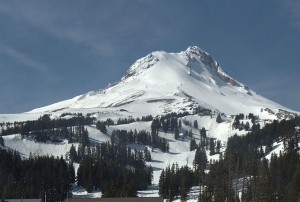 Mount Hood Meadows is one of the largest ski resorts in the U.S. state of Oregon and the largest ski resort near Mount Hood. It is located about 67 miles east of Portland, and 35 miles from Hood River along Oregon Route 35
What Makes Mount Hood Meadows Ski Resort Unique?
The variety of Meadows terrain is what makes it so unique and popular. The wide-open terrain off of the Cascade Express (voted most popular cruising terrain in Oregon) offers incredible panoramic views half-way across Oregon from it's 7,300 foot elevation. Advanced skiers and snowboarders seek out the steeps in the front bowls, or drop in to the seemingly endless pitch of powder-filled Heather Canyon. Explore the double black steeps, gladed tree runs and cliffs through access gates into the Private Reserve and S&R Cliffs! There's an additional 1,700 vertical for hikers who want to drop into the double blacks of Super Bowl above Heather, to bring the total vertical limit available in just one run to almost 4,500 feet. Beginners learn on the gentle slopes of Buttercup and the Ballroom Carpet. Meadows is known for having some of the best terrain in the Northwest.
Location
Mt. Hood Meadows is a 67 mile trip from Portland. If you drive, you must have an ODOT Sno-Park Permit to park in any of our three parking lots. A daily or seasonal Sno-Park permit can be picked up at the Department of Motor Vehicles in many locations around town or in our lodges.
From Portland: Take Hwy 26 East to Government Camp, then go North on Hwy 35 for 10 miles.
An easier, less congested drive from Portland: Take I-84 to Exit 64 in Hood River, then follow Hwy 35 for 35 miles.
From Hood River: Take Highway 35 for 35 miles South to the Mt. Hood Meadows entrance.
Address:
14040 Highway 35
Mt. Hood, OR 97041
The Mountain
Mount Hood Meadows Ski Resort Hotels and Accommodations
Best Western Plus Hood River Inn
Mount Hood Meadows will refer lodging and ski packages for Mt. Hood / Hood River / Gorge area properties. Call us at 800.SKI.HOOD to find out which destination property would fit you best.
Mount Hood Meadows Ski Resort Webcams
Mount Hood Meadows Ski Resort Weather Forecast
[wunderground location="Mount Hood, OR" numdays="7″ layout="simple"]