Seattle's Newest Attraction – Wings Over Washington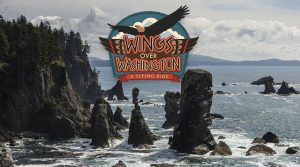 Located down on the pier on the downtown Seattle waterfront, right next to the Seattle Great Wheel is one of the newest attractions in Seattle Washington. The Wings Over Washington is a flying ride where you can fly over Washington State without leaving the city!
If you are in need of a good shake-up to your system to break you out of the winter blues or if you need to get into a cool place during the summer, check out Seattle's newest ride. The latest ride on the waterfront in Seattle offers the thrill of flying and really delivers.
It's from the same people who brought the Seattle Great Wheel to town, and is the most advanced flying ride available. It may be the closest you'll ever get to actually flying yourself.
It's one of more than "10 Plus Things You Must See and Do in Seattle."
More About The Flying Ride Over Washington
Your experience begins with a safety video in a high-tech Pacific Northwest park ranger station – at least that is what the room is designed to look like. Then you move into a theater that seats 33 visitors. You strap into seats that will fly you over some of Washington State's great landmarks. These include seaside cliffs in the Olympic National Forest, the cascading Snoqualmie Falls, and more great experiences. It's all done with a multi-sensory movie that was captured with 5K resolution cameras. These were either mounted to helicopters or drones. Some of the filming actually took place at over 100 miles per hour, quite a challenge for the filmmaker!
Your senses will be inundated not only visually but with special effect including fragrances and spritzes of water.
The ride offers the most technologically advanced ride experience in the world and is the only one to feature the scenic state of Washington, there are flying theaters in Vancouver, Europe, as well as at some of the Disney Theme parks located in California, Orlando and China.
Wings Over Washington Location and Contact Information
Wings Over Washington
1301 Alaskan Way
Pier 57, Miner's Landing
Seattle, WA 98101
Phone 9 AM-5 PM: 206-623-8607
wingsoverwa.com
For general questions or comments, please send us an email to: fly@wingsoverwa.com