10 Things You Must See and Do in Seattle
So Much To Do In Seattle
There is a lot to do in Seattle so we've narrowed down the list here of the top 10+ things you must see and do in Seattle while you visit!
Find websites, phone numbers, and locations for the places you see in the video
Some content below is courtesy of the Seattle Convention & Visitors Bureau
Seattle is the largest city in Washington State and lies to the west of Bellevue and the North of Tacoma and Olympia.  North of Seattle you drive through Lynnwood, Everett, Marysville, Mount Vernon, and Bellingham on your way to the Canadian boarder. You'll find a thriving community in the Downtown Seattle district as well as great lodging and dining. Seattle is also considered an entry point for tours and trips into Washington along with Spokane in Eastern Washington Gateway Country. Be sure to check out our video page of all the main Seattle Neighborhoods.
Check out the Seattle CityPASS too. It's a great way to see some of Seattle Washington's main attractions.  You'll save 45% off of 5 different attractions, skip most of the ticket lines, and get nine days to use the pass from first day you use it! Visit Seattle's "Pacific Science Center" and 4 other attractions a savings of up to 45% with CityPASS. Shop Today!

You can save on shows and events too. Check current Discount Tickets for Seattle Shows and Events.
Now to plan your trip with our favorite list that you must see and do in Seattle!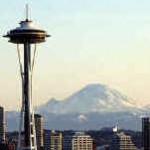 The Space Needle
Learn more about the The Space Needle
Seattle Center, 400 Broad St.; 206.905.2100
A 41-second elevator ride takes you up 520 feet to the observation deck of the Space Needle, built for the 1962 World's Fair. Enjoy a meal at Atmos Café located on the upper observation level during normal building hours throughout the day and night. 360 Sunset at the Top is also located 520 feet up with 360 degree views of Seattle and offers Puget Sound Pacific Northwest wine flights paired with bites highlighting local flavor.
Note: SkyCity is closed for renovation.
SkyCity at the Needle, the third restaurant to be perched at 500' on top of the Space Needle, officially closed September 4, 2017. It was the cherished celebration restaurant of the Pacific Northwest for 18 years.
Now, in the midst of the historic renovation of the Space Needle, the culinary team is working on what the fourth chapter of dining will be. The Space Needle is working with world renown designer, Tihany Design, to re-invent dining at the Space Needle.
Look for more details early fall about the restaurant of the future.
For more information, visit seewhatsup.space
Pike Place Market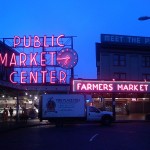 Between First Ave. and Western, from Pike to Virginia streets
Learn more about the Pike Place Market
Born in 1907, Seattle's Pike Place Market is the granddaddy of farmers' markets. Today, it's a major global tourist attraction (33rd most visited in the world) with 200 businesses operating year-round, 190 craftspeople and 120 farmer booths – plus street performers and musicians. Flowers by the bucketful, flying fish, fresh pastries and fruit, handmade cheeses, local honey, wine, an assortment of restaurants, import goods, antiques, collectibles and lots of surprises are around every corner. See Pike Place Market videos and tours.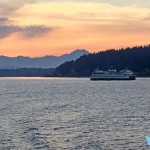 Washington State Ferries
Learn more about the Washington State Ferry System
Traveling by ferry is a state of mind as much as a means of transportation to some of the Puget Sound's most historic and scenic sites. Views of the Olympic and Cascade mountains, the Seattle cityscape and the green shorelines will draw you out onto the deck to feel the salt breeze on your face. Considered the top tourist attraction in Washington State, riding on a ferry is something you must see and do in Seattle. The state ferry system takes passengers and their vehicles from Seattle and nearby departure points to Vashon Island, the Kitsap Peninsula, the San Juan Islands and Canada.
Seattle Aquarium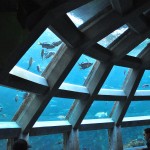 Pier 59
206.386.4300
Check out the Seattle Aquarium
Meet Alki, the sea otter pup born at the Aquarium. Walk under the water in a glass dome as bluntnose sixgill sharks and other Elliott Bay creatures swim all around you. Touch a sea anemone. Learn about the lives of salmon at the world's first aquarium-based salmon ladder. Marvel at the impossibly bright-colored coral reef fish. And don't forget to wave to the giant Pacific octopus.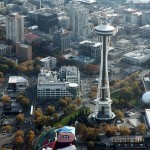 Seattle Center
www.seattlecenter.com
http://seattlecenter.com/visitor-info/getting-here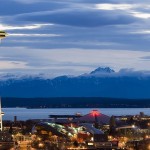 The Seattle Center is a 74-acre complex build for the 1962 worlds fair. On the grounds you'll find arts, entertainment, a park, and much more. The Seattle Center contains the Space Needle, International Fountain, Monorail terminus, and Armory (with food court, Repertory Theatre, Children's Museum, and the Seattle Shakespeare Company). The center also contains the Experience Music Project, Chihuly Garden and Glass Museum, Mercer Arena, Pacific Science Center, and more.
Seattle Center Monorail can whisk you to the Center from downtown in 90 seconds. Fifteen Metro bus routes serve the Center from around the region, and there's also driving access to our campus via Interstate 5 and Highway 99. Parking garages – 1st Ave. N. Garage, Mercer Street Garage, and 5th Ave. N. Garage
Woodland Park Zoo
South Entrance address:
750 N. 50th Street
Seattle, WA 98103
GPS/West Entrance address:
5500 Phinney Ave. N
Seattle, WA 98103
1-206-684-4800
www.zoo.org
See more than 1,000 animals of 300 different species, from elephants and gorillas to piranhas and penguins, in naturalistic exhibits at the Woodland Park Zoo. Drop by at scheduled feeding times and talk with the people who care for the animals.
Bill Speidel's Underground Tour
Learn more about Bill Speidel's Underground Tour
608 First Ave.
206.682.4646
After the Great Seattle Fire of 1889, the city was rebuilt over the top of the ruins. This guided tour takes visitors through the hidden subterranean passages that once were the main roadways and storefronts of old downtown Seattle and tells stories of the frontier people who lived and worked there.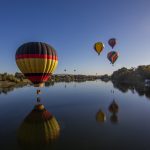 Seattle Ballooning
Learn more about Seattle Hot Air Balloon Rides
16247 8th Ave SW
Burien, WA 98166
Speaking about flying rides over Washington – be sure to check out Seattle Ballooning if you are looking for an adventure out of town just a bit with sweeping views including Mt. Rainer.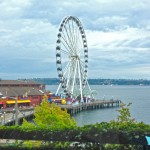 Seattle Great Wheel
Learn more about the Seattle Great Wheel
1301 Alaskan Way
Seattle, WA 98101
Phone 9 AM-5 PM: 206-623-8607
The Seattle Great Wheel was built in less than a year. Seattle businessman Hal Griffith wanted a Ferris wheel in the city for nearly 30 years, and then he realized he could build one on his own pier. The Seattle Great Wheel has been operating since public the end of June 2012. It is now a Seattle icon and major tourist destination.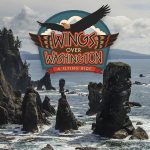 Wings Over Washington – A flying ride over Washington
Learn more about Wings Over Washington
1301 Alaskan Way
Pier 57, Miner's Landing
Seattle, WA 98101
Opened in summer of 2016 by the folks who brought us the Seattle Great Wheel, Wings Over Washington offers the thrill and adrenaline rush of flying over Washington without leaving the city.
Tillicum Village
Blake Island
206.933.8600
www.argosycruises.com/tillicum-village/
A short, narrated cruise takes you to an island village, where you'll feast on salmon cooked in the authentic Native American way. A stage show of traditional dances and stories entertains and teaches you about the people who lived in the Northwest first.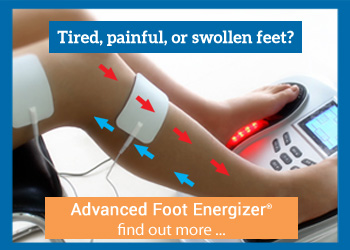 More To See and Must Do in Seattle Attractions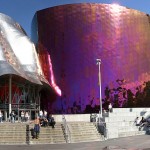 Museum of Pop Culture (formerly the Experience Music Project Museum – Music + Sci-fi + Pop Culture)
MOPC in the Seattle Center- Formerly the Experience Music Project and and Science Fiction Museum and Hall of Fame
Learn more about the Museum of Pop Culture
325 5th Avenue N
Seattle, Washington
General Inquiries: 206-770-2700
Box Office: 206-770-2702
Group Sales: 206-770-2776
Dedicated to contemporary popular culture and founded by Paul Allen in 2000, the museum opened as the Experience Music Project, the Museum of Pop Culture is a nonprofit museum and is definitely something you must see and do in Seattle!
Pacific Science Center in the Seattle Center
200 Second Avenue North
Seattle, WA 98109
(206) 443-2001
www.pacificsciencecenter.org
Designed for the 1962 worlds fair along with the Space Needle, the Pacific Science Center is a museum with the goal of bringing science to life. The center offers exhibits, IMAX Movies, and an 80 foot diameter Laser Dome – the largest and longest operating domed laser theater in the world.
Chihuly Garden and Glass in the Seattle Center
305 Harrison St.
Seattle, WA 98109
Next to the Space Needle
chihulygardenandglass.com
Chihuly Garden and Glass, a long-term exhibition, opened at Seattle Center in 2012.
Online Ticketing Technical Support: 1-407-956-3527
For Exhibition questions, please contact Chihuly Garden and Glass directly: 1-206-753-4940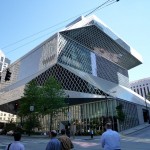 The Seattle Central Library
Learn more about the Seattle Central Library
1000 Fourth Ave.
206.386.4636
Designed by world-renowned Dutch architect Rem Koolhaas, the award-winning glass and steel structure of the new Central Library makes the building seem a little off-kilter and translucent – allowing passersby on the street to look in.
The Seattle Waterfront
Piers 52 to 70 on Alaskan Way
www.seattle.gov
A bustling collection of attractions, restaurants and shopping, as well as starting points for ferries, cruise ships, the Victoria Clipper and Argosy boat tours are located here. Feed the seagulls at the statue of Ivar Haglund in front of Ivar's Acres of Clams, stroll by the fountains on the wooden piers of Waterfront Park, admire the view or shop for souvenirs.
Seattle Webcams and Weather
Seattle Hotels
See our list of Seattle Hotels and Contacts
Seatac (Seattle Airport)
Transportation

Is Seattle Healthy to Visit?

A 2013 study finds Seattle to be among the healthiest cities in America. Not only that but it's at the top of the list in second place only to Boston, Massachusetts.
With a high fitness index, comprehensive health insurance coverage and very clean air, it's clear why The Emerald City made it on our list.  Health-conscious residents can participate in the plethora of outdoor activities the area offers, doing everything from kayaking to biking to hiking.  In addition, the city has shown a commitment to public health and fitness.  The Seattle Parks and Recreation Department has started a Healthy Parks, Healthy You initiative to promote physical activity.
Here's how NerdWallet explains the method behind the ranking:
NerdWallet sifted through the fifty largest metro areas in the United States looking for the cities with the best indicators of health, including health insurance coverage, residents health scores, clean air, and the number of doctors per capita.  NerdWallet assessed the health score according to the following factors:

How fit are the residents?  We assessed fitness of residents through the American Fitness Index, a composite index that includes the CDC's Selected Metropolitan/Micropolitan Area Risk Trends Behavioral Risk Factor Surveillance System, environmental factors from the Trust for Public Lands, rates of disease and other government data.
Is healthcare accessible?  We incorporated the percentage of residents who have health insurance as well as the number of physicians per 100,000 residents.
Is the air quality good?  Research shows that cleaner air adds an average of 4 months to a resident's life expectancy.  We included the number of high particle pollution days per year for each metro area.

Part of ongoing city health is your own home health. Learn more about keeping a healthy home with checklists and resources.
More About Seattle
Popular Tour Itineraries From Seattle
Battle of the Washington Volcanoes Itinerary
Cascade Loop – Washington's Ultimate Road Trip
Navigating the Natural Wonders of Washington State