Semiahmoo Bay, Blaine, Washington
Blaine's Drayton Harbor opens into Semiahmoo Bay; the harbor is separated from the main body of the bay by Semiahmoo Spit. The Semiahmoo Resort is located on the end of the spit.
In Canada the Campbell River flows into Semiahmoo Bay; in the USA California Creek and Dakota Creek flow into Drayton Harbor. See current weather webcam for Semiahmoo.
Semiahmoo Spit and Park
Semiahmoo Spit (separating Semiahmoo Bay and Drayton Harbor) is also home to Semiahmoo County Park, which boasts more than 300 acres of tideland and approximately 1.5 miles of level pathways ideal for outdoor adventures such as walking, biking, rollerblading, kayaking, clamming, sand sculpting, kite flying and picnicking.

The region's tide pools, estuaries and waterways attract thousands of geese, ducks, gulls, loons and shorebirds each year and recently made the Audubon Society's list as one of Washington State's top birding destinations. Drayton Harbor attracts a high population of endangered species as well including the bald eagle, peregrine falcon and marbled murrelet.

The Semiahmoo Marina, situated on the south side of the entrance to Drayton Harbor, boasts 300 slips and a mercantile. From here visitors can rent kayaks, mopeds, paddle boats plus more. See Semiahmoo Marina Webcam and Tides.

The Plover, an historic seasonal ferry shuttles passengers between the end of the spit and downtown Blaine WA. Mere minutes from Canada and only 35 miles from Vancouver, the casual community of Blaine offers many attractions and activities for visitors from both sides of the border.
Alaska Packers Cannery Museum
A.P.A. – Alaska Packers Association Cannery Museum is a Whatcom County Park facility located on Semiahmoo Spit in Blaine, Washington.
The cannery served as a center for salmon processing for nearly 80 years. Housed in an original cannery building, the museum exhibits tell the story of days gone by and include a scale model fish trap, antique machinery, a gallery of historic photos, and an original 29-foot Bristol Bay sailboat that gill-netted salmon in the Bristol Bay fishery. Take the time to view "Sockeye and the Age of Sail" video documentary with early day film footage of the APA Star Fleet of tall ships under sail, connecting Blaine, the Bristol Bay salmon fishing, and San Francisco in the fortunes of fishing. Allow 1 hour and 45 minutes to view the exhibits and DVD.
Bring a picnic and explore the beaches of the park as well as scenic walking and biking trails along this unique 1.25-mile natural spit.
Admission is free, donations welcome. Open Memorial day thru September | hours are Friday, Saturday, Sunday, 1 – 5 pm
9261 Semiahmoo Parkway, Blaine, WA 98230
Phone 360-371-3558 or 360-392-7795.
Semiahmoo Resort, Golf, and Spa in Blaine Washington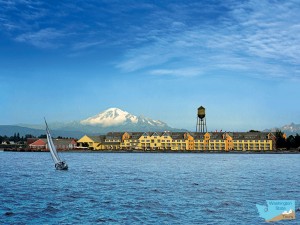 Come retreat to the Pacific Northwest's iconic seaside Semiahmoo Resort. Located a scenic mile into the waters of Semiahmoo Bay and Drayton Harbor, just 90 minutes north of Seattle and 45 minutes south of Vancouver British Columbia, the resort is one of Washington State's preferred destination getaway. You'll find two of Washington State's top rated golf courses, farm to table cuisine in multiple restaurants and lounges, as well as a full menu of spa and salon services.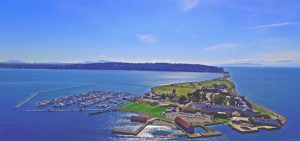 At the resort you'll be greeted with exemplary service while checking-in to one of 212 luxurious guest rooms and suites. All of them have incredibly plush pillow top bedding wrapped in luxury linens as well as environmentally sensitive bath amenities. Choose from suites with wood-burning fireplaces, rooms with patios or balconies, and views of Semiahmoo Bay or Drayton Harbor. It's the perfect escape for relaxing in any season. See Semiahmoo Resort Webcam overlooking Semiahmoo Bay.
Take time to indulge yourself in The Spa at the Resort. Skilled spa technicians utilize the highest-quality products for a variety of treatments including personalized massage, specialized skin care, and a full service salon.
T-off at one of two incredible golf courses. Semiahmoo Golf and Country Club offers a resort course designed by Arnold Palmer and is ranked #7 public course in Washington. Loomis Trail is a tournament style course designed by Graham Cook and is ranked #5 in Washington and is the only course in the state to make the USA top 100.
Your dining experience will include farm to table cuisine developed by the Culinary Director and sourced from local producers. Visit the restaurants for appetizers, dinner, and seasonal flavors at Packers Lounge or Pierside Kitchen for stunning views in a warm and casual setting in the hotel. Both offering stunning waterside dining with fresh Northwest seafood choices. At the Golf and Country Club visit the Great Blue Heron for country club choices with views over the golf course. At Loomis Trail Golf Club enjoy a full menu of choices from the snack bar styled bar and grill. Of course you may always choose to dine in-room from the room service menu.
Enjoy the beaches and over 300 acres of tidelands while sighting shorebirds, eagles, and sea-life all year, or plan to kayak or paddle boat from the marina in spring, summer, and fall. The historic Plover ferries step-on visitors between the resort and Blaine during the summer.

 The resort features a pool, full-service spa, fitness center, multiple and diverse restaurants and two challenging and highly acknowledged public golf courses. New in summer of 2016 the resort also offers a beach activities center.
Beach Activities Center – Open from 11 am to 2pm Monday through Thursday and from 10 am to 5 pm Friday to Sunday, the Beach Activities Center is open in the summer and offers kayaks, stand-up paddleboards, and bicycles for rent at the entrance of Drayton Harbor.
Golfers seeking an exceptional and scenic outing in Northern Washington state will find both Semiahmoo Golf & Country Club and Loomis Trail Golf Club awesome public course choices.
The Spa at the resort offers those in Northern Washington State an extensive array of skin care treatments amidst the tranquil setting of a stunning resort. Its spectacular seaside location provides the ideal refuge for rejuvenating mind, body and spirit.
Semiahmoo is a great escape – King 5 Evening Magazine
Restaurant Menus – at Allmenus.com – Packers Oyster Bar at the resort (360) 318-2090
Meetings and Events – Request proposal at Elite Meetings
Meetings and Events at Semiahmoo Resort, Golf, Spa – Request proposal at Cvent
Wine Story: Match Maker: The Wright way at Semiahmoo Resort – By Eric Degerman – Wine Press Northwest -May 22, 2015
Directions to Semiahmoo Resort
Directions from South
Take I-5 North to Exit 274 (Peace Portal Drive)
Turn Right onto Peace Portal Drive
Turn Left onto Bell Road at 4 Way Stop (1 mile)
Turn Right onto Drayton Road (.9 mi)
Veer Left onto Harbor View Road (2.4 mi)
Turn Right onto Semiahmoo Parkway at gas station
Drive up hill and pass Semiahmoo Golf and Country Club on your right
Drive through 4-Way stop and down onto the spit
Accommodations Near Semiahmoo in Birch Bay
Birch Bay offers opportunities for accommodations nearby.
Real Estate at Semiahmoo