Suggested Palouse Day Trip from Spokane Washington
From the Spokane Visitors Center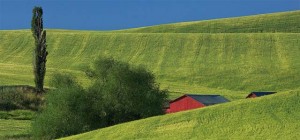 The Palouse Praire landscape is laid out a patchwork quilt. Waves of color are in a landscape of green and gold fields covering rolling hills reached by back-country roads. The colors morph from season to season, but the rippling effect never changes. As you glide through the one of the most important farming regions in the United States, you'll hear stories of giant earthworms that grow to three feet in length, nomadic Native American tribes, and pioneer families who settled here in the late 1800s. A three-mile road winds to the top of 3,618-foot-tall Steptoe Butte, for a bird's eye view of the prairie.
One of the nations leading agriculture research and education facilities, the Washington State University, makes its home in Pullman Washington within the Palouse region. Plan ahead for a WSU professor to will enlighten and entertain your group with an agriculture presentation and join students from around the world for lunch at the CUB.
Visit the university's creamery, producing cheese and milk products since 1902, including award-winning Cougar Gold Cheese. Enjoy a sample and learn why the cheese is packaged in cans. Then top off the day with a stop at Ferdinand's Ice Cream Shoppe for a locally made ice cream or a milkshake. (Seasonal option.)
A Paradise Called the Palouse (Time: 8 hours from Spokane)
Head south from Spokane to the top of Steptoe Butte for a tremendous view of the Palouse, the richest soft white wheat producing area in the world. From this perspective, the fields look like a big patchwork quilt. In Pullman, visit Washington State University, one of the nation's leading universities in agricultural-related research and education. The University opened its doors in 1892. Hear a presentation by a professor from WSU about one of the areas of agricultural interests. Enjoy lunch at the CUB on campus. Visit the creamery to see how Cougar Gold Cheese is made and have a sample. Then indulge in an ice cream cone or milkshake at Ferdinand's. The creamery is in the forefront of research done in cheese production and allows WSU students to gain work experience in the Food Science field. This is a seasonal option.