Christmas Lighting in Leavenworth from Icicle TV
Celebrate Christmas at the 2015 Leavenworth Washington Christmas Lighting Festival
(see lodging and day trip information below main story)
Each year the tiny Bavarian themed village of Leavenworth Washington, celebrates Christmas with a world famous Christmas Lighting Festival.
White Shines Warmest (Leavenworth WA) from Voortex Productions
Leavenworth Washington Christmas Lighting Festival 2016 Schedule
Friday, December 2nd, 2016
Saturday, December 3rd, 2016
Sunday, December 4th, 2016
Friday, December 9th, 2016
Saturday, December 10th, 2016
Sunday, December 11th, 2016
Friday, December 16th, 2016
Saturday, December 17th, 2016
Sunday, December 18th, 2016
Please note that on Friday evenings all the Leavenworth Christmas lights are turned on so that the village shines as visitors arrive for the weekend. There is not actual lighting ceremony on Friday evenings.
'Tis the season: Small towns go all out for Christmas
by Carri Wilbanks, Special for USA TODAY | Published on December 11, 2015
Full Calendar of Events in Leavenworth Washington This December
Celebrate this holiday season with a trip to a Bavarian winter wonderland nestled in the Cascades.
Village of Lights Display
Thanksgiving Weekend  – Valentine's Day
The village glows with over half a million lights every night from Thanksgiving weekend through Valentine's Day weekend! Come enjoy the magic!
Leavenworth Chamber of Commerce | 509-548-5807 | www.leavenworth.org
Leavenworth Christkindlmarkt
November 25-27
A traditional Bavarian style Christmas Market with crafts for the kids, entertainment, a parade of lanterns, Santa Claus, and Christking and Saint Nicholas.
Christkindlemarkt in Leavenworth takes plas in the downtown city park and in the Leavenworth Festalle.
Leavenworth Chamber of Commerce | 509-548-5807 | www.leavenworth.org
Bronn & Katherine Journey: Christmas Harp & Voice
November 29, 30, December 1, 6, 7, 8 | 7:00pm
Harpist Bronn Journey performs Christmas classics accompanied by his wife, vocalist Katherine Journey. Entertaining and enthralling, this is truly a concert experience
everyone can enjoy.
Leavenworth Chamber of Commerce | 509-548-5807 | www.leavenworth.org
Leavenworth Washington Christmas Lighting Festival
December 2-4, 9-11, and 16-18
Sing Christmas songs, delight on roasted chestnuts, meet Christmas characters and enjoy many other activities to build family traditions for years to come!
Leavenworth Chamber of Commerce | 509-548-5807 | www.leavenworth.org
Marlin Handbells Christmas Concert
December 5 & 7 | Times vary
Twelve local residents bring the magic of handbell music to the Bavarian Village, ringing 108 English handbells!
Marlin Handbells | 509 – 548 – 5138 | www.marlinhandbells.com
Village Voices "A Leavenworth Family Christmas" Concert
December 2, 9, 11 | Times vary
Celebrate "Christmas in the Mountains" with Leavenworth's very own Village Voices!
Village Voices | 509-393-5071 | www.leavenworthvillagevoices.org
Snowy Owl Christmas Series
December weekends | Times vary
Icicle Creek Center for the Arts offers a full Christmas Series, including an old-fashioned radio show, films, a concert by Grammy Award-winning Tingstad and Rumbel, evenings filled with live holiday music and more!
Icicle Creek Center for the Arts | 877-265-6026 | www.icicle.org
Sat, 12/03/2016 – 7:00pm – Bolshoi Ballet's The Nutcracker
Filmed at the Bolshoi Ballet, this beloved holiday classic will enchant the whole family with its fairytale setting and Tchaikovsky's timeless score.
Fri, 12/09/2016 – 7:00pm to Sat, 12/10/2016 – 7:00pm – Snowy Owl Family Christmas Show
Stunning singers and musicians with your Christmas favorites in an old-time radio show with a tender Christmas story
Sat, 12/10/2016 – 9:55am – L' Amour de Loin- The Met: Live in HD
One of the most highly praised operas of recent years, Kaija Saariaho's yearning medieval romance L'Amour de Loin ("Love From Afar"), has its Met premiere this season
Fri, 12/16/2016 – 7:00pm – Magical Strings Celtic Yuletide
Irish music and dance, storytelling, and songs of the season that bring warmth and joy into the heart of winter!
Sat, 12/17/2016 – 7:00pm – A Candlelight Christmas
A night of Holiday magic and wonder with Andre Feriante, Overton Berry, and Steve Thoreson
Leavenworth Summer Theater Winter Production To Be Announced
Presented by Leavenworth Summer Theater.
Leavenworth Summer Theater | 509-548-2000 | www.leavenworthsummertheater.org
Lodging and Hotels in Leavenworth Washington
For the month of December hotels and resorts in Leavenworth fill up quickly. Sunday's are a good option for enjoying the Christmas Lighting Festival because there are often more accommodations available Sunday night.
Sleeping Lady Mountain Resort
3 Star
Alpen Rose Inn
3 Star
Obertal Inn
2 Star
Blackbird Lodge
2.5 Star
Howard Johnson Express Inn – Leavenworth
2 Star
Fairbridge Inn & Suites
2 Star
Leavenworth Day Trip – Clipper Vacations Holiday Packages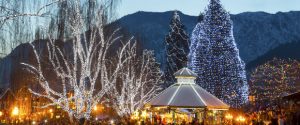 The Leavenworth Christmas Lighting Festival is a Washington state tradition. Spend the afternoon shopping and enjoying the quaint town of Leavenworth, as the aroma of roasting chestnuts fills the air. At 4:30, St. Nickolas will arrive at the Front Street Gazebo to welcome children, young and old. Enjoy live Christmas music and entertainment. And when the sun begins to set, gather around the gazebo in the center of town for a magical moment, when thousands of voices begin singing "Silent Night" and, one by one, the trees begin to light. You'll never experience anything quite like this traditional holiday festival. And if you have a glass of hot mulled wine to warm you up, don't worry, because you're being brought back across the pass by motor-coach.
Includes: round-trip transportation aboard a deluxe motor-coach from the Seattle area with pickup at various locations, light breakfast served en route, snacks and water on the return, all taxes and a tour host.
December 3, 10 & 17: pickup locations in Seattle, Northgate, Bellevue, Lynnwood, Auburn and Tacoma
December 4, 11, 18: pickup locations in Bellevue and Auburn only
From $70.62*
Requires 14-day advance purchase
Call (800) 829-5448