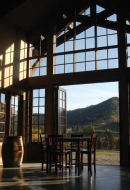 On a wildflower-carpeted hillside overlooking the Wenatchee River Valley, just minutes from Leavenworth, Silvara Vineyards offers great wines, friendly staff in an outstanding mountainside setting.
Poised on a gentle hillside surrounded by pear orchards, vineyards and the majestic wooded peaks of the Cascade Mountains, the five-acre estate offers a magnificent tasting room and entertainment hall designed by renowned Montana architect Jerry Locati and built by the founder, with towering scissor-truss roof frame, broad windows, and stone fireplaces warming the front great-room, the rear tasting room, and outdoor stone patio.
Silvara Vineyards is the dream project of partners Gary Seidler and Cindy Rarick. Just east of the Bavarian village of Leavenworth, the lodge-style tasting room crowns a broad knoll from which you can enjoy a spectacular view of the Upper Wenatchee river valley while tasting a variety of wines.
Silvara Vineyards hosts post Thanksgiving gathering from Decanter Banter
Hours
January 1 – March 31
Hours: Winter 12:00 Pm to 6:00PM   FRI SAT SUN MON
April 1- December 31
Open 7 Days a week
Hours: Summer 12:00 to 6:00 PM
Phone: 509-548-1000
Email: info@silvarawine.com Website: www.silvarawine.com

Visit Silvara Vineyards website.

77 Stage Road
Leavenworth, WA 98826 509-548-1000