The creation of Stemilt Creek Wine begins with a uniquely crafted organic compost, tilled on location at Stemilt Hill. Careful of each ingredient, this compost boasts a balanced acidity specifically designed for a grapevine's optimal growth.
At the turn of the 20th century, the Mathison family planted their first fruit trees atop their Stemilt Hill homestead, igniting a tradition that has thrived for five generations. Now, world-class fruit growers, Kyle and Jan Mathison apply their wisdom and passion into their role as vintners. Completely personal, the Mathisons are undivided in their attention to every stage of the growing process, touching the life of each grape from the soil to the lips.
The display of snowy mountains rises from the west. Crisp night air falls in with the glow of the sun; a glow that lingers over the Stemilt basin throughout the day. These rolling hills, teeming with the life of vineyards is a land where grapes were meant to be grown. The fusion of nature's elements creates the smooth, complex flavor Stemilt Creek wine is known for. Stemilt Creek Wine envelops this place, bringing the mystique of the region to your lips with each sip.
Next, the grapes are nourished, picked, crushed and processed in barrels on site. Actively involved in each step of this process, a dedicated team celebrates every stage of the life of the grape and takes joy in its journey at Stemilt Hill. The Stemilt heritage in the fruit industry offers yet another benefit to this process: all wine is produced in a climate controlled warehouse. This high level of direction ensures the best possible environment for wine making.
News:
Stemilt Creek Winery: High Quality Wines and Rich Family History Pair For a True NCW Treat
October 17, 2016
Visit Stemilt Creek Winery's Facebook Page.
***Wenatchee's tasting room hours:
Monday – Saturday: 11am – 6pm
Sunday: 11am – 5pm
***Leavenworth's tasting room hours:
Monday – Wednesday: Noon – 6pm
Thursday – Saturday: Noon – 7pm
Sunday: 11am – 5pm

Hours Vary Seasonally, Please Call for Current Operation
Call Wenatchee Tasting Room 509-665-3485
Call Leavenworth Tasting Room 509-888-5357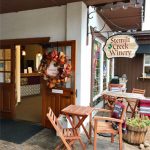 Leavenworth
617 Front Street, Ste-4A
Leavenworth, WA 98826
509.888.5357
Wenatchee
110 N. Wenatchee Ave
Wenatchee, WA 98801
509.665.3485
509-665-3485

View Larger Map